Millet & District Museum, Archives, & Visitor Services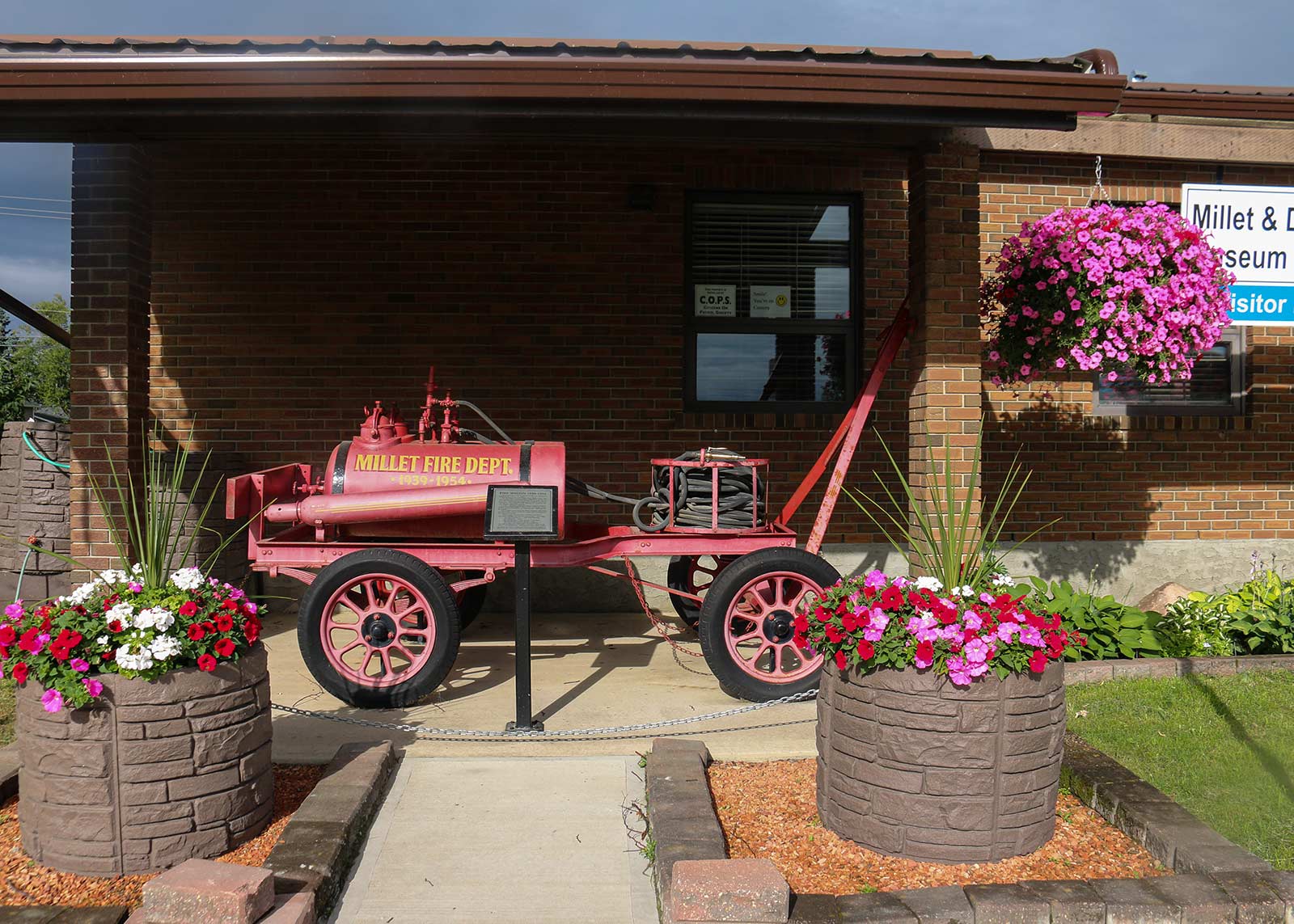 Located on main street/Highway 2A, Millet, the Millet & District Museum holds over 3,000 square feet of displays. We preserve the memories and physical artifacts of the people of Millet and the 13 surrounding school districts. The Museum celebrated 35 years of excellence in 2020. We are governed by the Millet & District Historical Society (est. 1977).
Featured Exhibits
School Bell Kiosk: Our grounds are home to the bell from the first Millet School, housed in the School Bell Kiosk and surrounded by garden and park space.
From a Signpost in a Slough: Depicts the history of Millet from 1900-1960, with displays on the railroad, hotel, store, livery barn, and creamery.
The Commemorative Veteran's Wall: This is a display of photographs of over 300 veteran's from Millet, including their service records, and a commemorative mural by local artist late Ray Bindr.
Historic Village: Our lower level, accessible by stair chair, is home to our 1930s barbershop, office, tool shed, kitchen, bedroom, parlour, and Hillside school reproductions.
Pioneer Women: As part of the Central Alberta Regional Museums Network's (CARMN) Women of Aspenland project, we tell the stories of over 50 pioneering women from our district.
Seasonal Displays: We offer ever-changing seasonal displays on topics of local relevance.
Virtual Exhibits: We currently offer three virtual exhibits, found on our website:

Millet in Bloom: People, Plants, and Pride, Growing Together for 25 Years
Every One a Pioneer: Celebrating 50 Extraordinary Women of Millet
From Millet to the World: Stories and Journeys from 35 Years of Employees and Volunteers
Other Museum services include school programs, kids programs, interpretive tours, historic building walking tours, and cemetery tours. Walking and cemetery tour brochures are available in both French and English.
Hours and Admission:
Summer Hours (till August 28th, 2021)
Monday, 9:00 a.m. - 5:00 p.m.
Tuesday - Friday, 9:00 a.m. - 8:00 p.m.
Saturday, 9:00 a.m. - 5:00 p.m.
Winter Hours (from September 7th, 2021)
Tuesday - Friday, 9:00 a.m. - 5:00 p.m.
Admission by donation.
Location & Contact Information
Address: 5120 50 St, Millet, AB T0C 1Z0
Phone Number: (780) 387-5558
Website:
milletmuseum.ca
Email:
info@milletmuseum.ca
Facebook:
@VisitMillet